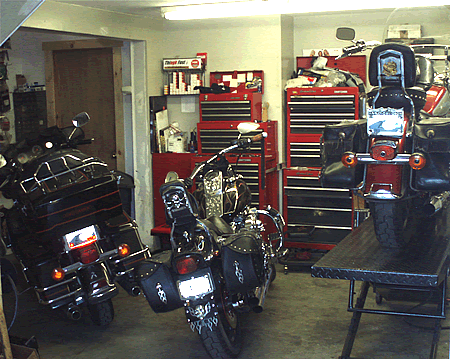 Cappy's service department has qualified motorcycle technicians available to service your motorcycle. Our master mechanic has been in the business servicing Harley's for more than thirty years.
We will meet all of our customers individual needs, from oil changes, tune ups, brakes, complete motor rebuilds to full customizing of your bike. No job too big or small, pick up the phone and give us a call! Whatever your request we will do our very best to accommodate. Arrangements may be made for servicing your bike by calling us at (401) 464-6007 to schedule an appointment or by visiting our shop.
Winter motorcycle storage is available. We start accepting bikes in November and must be out by April 1st. Included is an oil and filter change, and a trickle charge. Call for pricing..
Winter Special*: To cold to ride your bike in for service? Let us trailer your bike in this winter in our enclosed bike trailer!. Call us for a quote on pick up and delivery. Our telephone number is (401) 464-6007